Did you know that our Ford dealership in Barrington, IL has a storied past? It's true! Many years before drivers in Arlington Heights, IL were shopping our lot for new 2018 Ford F-150 models or used Ford cars for sale, Wickstrom Ford Lincoln was actually called Barrington Ford and owned by a different family. Today, it's one of many dealerships owned by the Wickstrom family. Get to know the history of the Wickstrom Auto Group from our very beginnings!
All in the Family
Tim Wickstrom was introduced to the automotive industry at a very early age. His father, Dick Wickstrom, opened his first dealership in Roselle, Illinois in 1963, and Tim was involved throughout high school and college doing everything from cleaning cars to delivering parts. It was during this time that Tim met his high school sweetheart, Gail, who would eventually become his wife and business partner.

The couple wed in 1969, the same year that Tim went off to Vietnam to serve as a United States Naval Officer. Upon his return in 1971, he became a part of the team at the dealership alongside his father and brothers. He worked his way up to general manager, and in 1979 Gail joined the organization as well.
Branching Out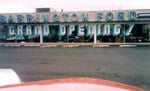 After 20 years of being in business with his family, Tim and Gail purchased Barrington Ford in 1984, after it had been closed for four years. They found it interesting that the original Ford dealership in Barrington was owned by D.C. Schroeder and dated back to the 1920's. The original building still stands today and is located at 208 South Cook Street, just next door of where the Einstein Bros. Bagels currently stands. Ford would ship vehicles out to Schroeder Ford by rail and the dealer would make the final assembly. The dealership was also located for a short time on Main St./Lake Cook Road in downtown Barrington before moving in 1968 to its present location at 600 W Northwest Highway.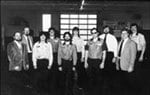 A recession hit in 1979 that deeply affected the automotive industry, forcing the dealership to close. It remained so until September of 1984, at which time Tim and Gail reopened it. They scraped all their savings together, borrowed from Ford Motor Credit, and hired an initial staff of 16 employees. One of the original employees, Pat Morgan, is still with the dealership today. Tim Wickstrom's Barrington Ford was renamed Wickstrom Ford in 1985 because Tim felt that the dealership belonged to not just himself, but to Gail and his two children, Colin and Richard, as well.
Growing Through Adversity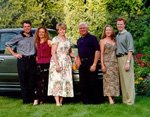 The Wickstroms survived a major challenge in 1986 when fire struck the dealership's service department. The true character of the team at Wickstrom Ford showed through as the employees rolled up their sleeves and worked non-stop to restore the dealership. Because of their commitment, business was resumed within a week. By the late 1980's, Wickstrom Ford was selling more than 1,500 new and used vehicles and had more than 50 employees. In 1991, Tim and Gail's oldest son, Colin, graduated from college and joined the family business full-time. Richard, their youngest, also came on board in 1993.

As a result of strong sales and service growth throughout the 1990's, Wickstrom increased its acreage by more than 30 percent. By 1996, a $2 million facility expansion and renovation project was completed.
Into the New Millennium 

The growth trend continued into the new century as Wickstom Ford purchased Nigri McCue Lincoln Mercury in 2003. The strategic location, only two doors to the west, would not only give Wickstrom Ford additional acreage, but also combined the great vehicles of Ford Motor Company with the luxury of Lincoln.
Building upon that momentum, in December 2008 the Wickstroms purchased another dealership located on Northwest Highway in Barrington, and those brands were brought into the Lincoln Mercury store. This was a risky proposition all the way around. The financial and credit worlds were in crisis; a new president was being sworn in; prognosticators were saying the sky is falling; the recession was in full swing.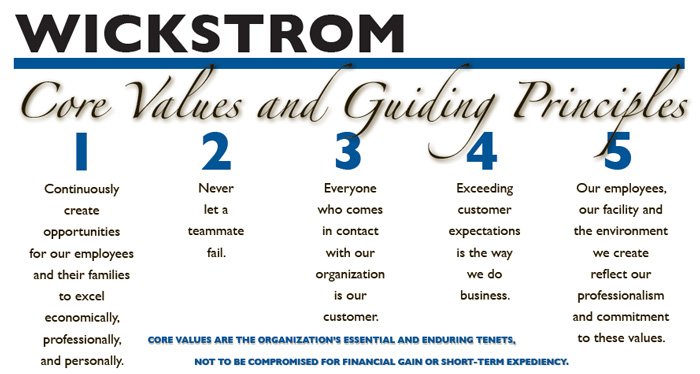 Many would have agreed that it was actually the worst time to make such an aggressive financial move. After all, there was a nationwide attrition of car dealerships. Generations-old car dealerships were closing their doors. But knowing the resilience of the American people and trusting in the strength of the Wickstrom employees, they went ahead with the acquisition and added to their family of brands. This was entirely consistent with Wickstrom's Five Core Values and Guiding Principles. And while others went out of business, the newly named Wickstrom Auto Group thrived.
In late 2009, the property between the Ford store and the Lincoln Mercury store was acquired. This move enabled the auto group to tie all four of their properties together for the first time, giving them a total of 20 acres of retail automotive service and sales, making it one of the premier destinations for auto shopping in the northwest suburbs.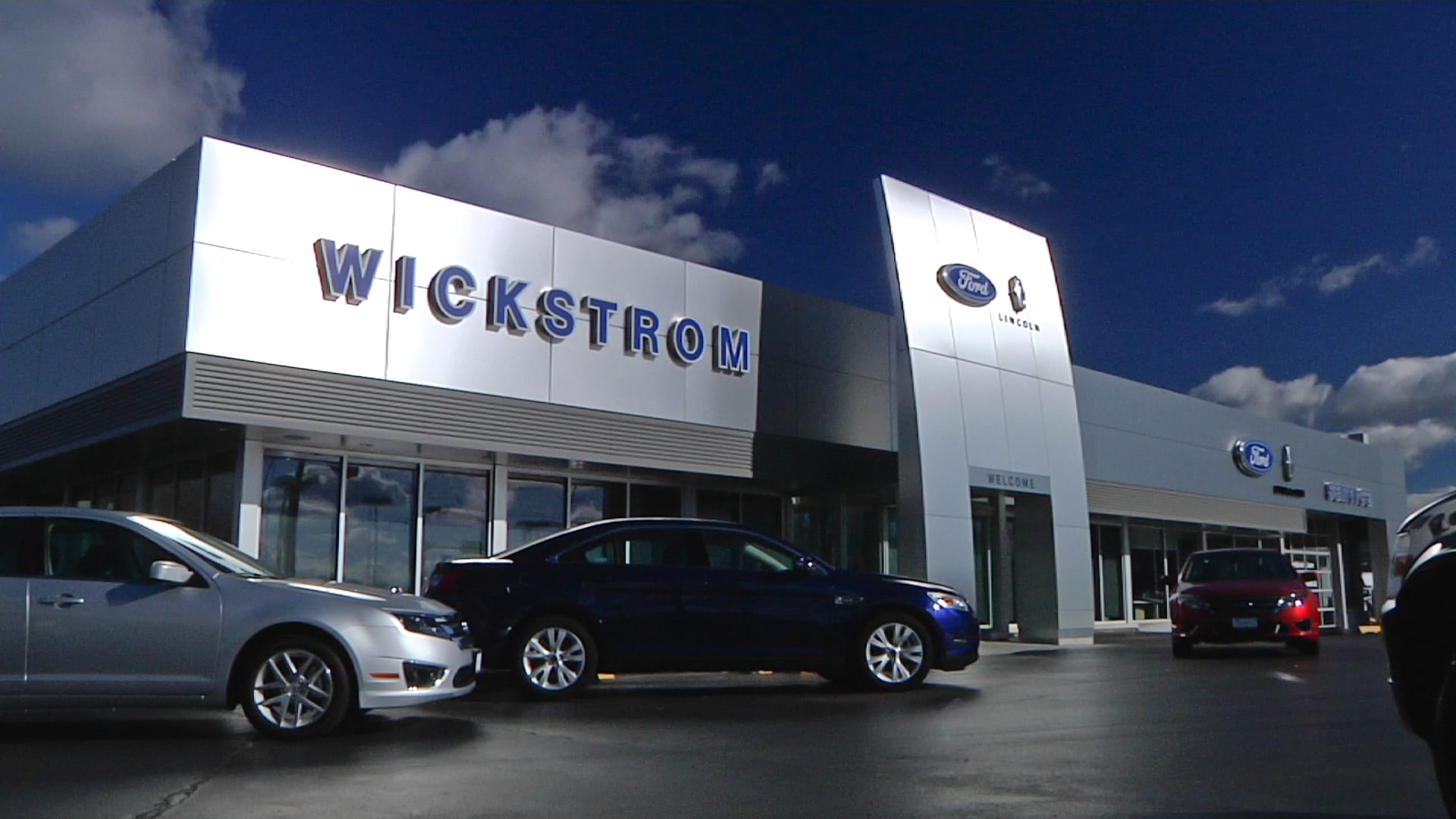 Bolstered by confidence in Ford's future and the direction of the Lincoln luxury brand, the Wickstroms entered into an extensive renovation of the Ford Lincoln store, redesigning the exterior façade as well as the showroom, lounge and service receiving area. Even the waiting area was expanded to 1,300 square feet and outfitted with a "PC bar," offering Macs and PCs as well as complimentary WiFi. Customers can also help themselves to fountain drinks and Starbucks coffee while they wait for their vehicles to be serviced.
The team is equally confident in their other brands… so much in fact, we are built a 30,000+ additional square feet that will be added to accommodate the growth of those brands. The construction was completed in Summer 2012.
Back to the Future
Today, the Wickstrom Auto Group has grown to 175+ employees and has become recognized by customers and the Ford Motor Company as a leader in customer satisfaction. The prestigious President's Award is presented each year to only the top 5 percent of dealerships throughout the country. The Wickstrom Auto Group is humbled to have been the recipients of this award 24 years in a row, most recently in 2018.
What began as Tim and Gail's dream is now a sprawling reality as Colin and Richard, who share their parents' passion. They both continue to model the commitment that began decades ago by providing a new generation of customers with outstanding purchase and service experiences.