The New 2023 Ford Mustang Mach-E!
It's an electrifying moment in automotive history for Ford Motor Company, as the all new 2023 Ford Mustang Mach-E is Ford's first completely electric vehicle. Teased since January of 2018, the fully-electric crossover pulls many styling cues from Ford's ever-popular pony car, the Mustang.
The Mustang Heritage Influenced The Mach-E
The Ford Mustang made its debut on April 17, 1964, and quickly created a buzz among car enthusiasts and race teams alike. With its aggressive styling and performance, Ford has sold over 10 million Mustangs since the start of its production. It has arguably been the most popular American sports car manufactured. A Mustang gives its owner a sense of pride and heritage that is unsurpassed and spans generations. The Mustang Mach-E looks to continue that feeling as it steps into the future of Mustang lineage 57 years later.
Expansion Of The Electric Motor
Ford's expansion into electric vehicles has been going on for a while with many models offering a hybrid option like the Fusion, Escape, and Explorer. Seeking to give customers a fully-electric vehicle that was undeniably "Built Ford Tough," Ford has been working on the Mustang Mach-E vehicle for quite some time. As with all electric vehicles, range and reliability were concerns and made top priority in development. Ford has been able to address these concerns, and you will be happy with the outcome.
Styling Of The Ford Mach-E
The Mustang Mach-E bridges the gap between sports car and family SUV. Sporting four doors, optional AWD, and performance that should make Mustang enthusiasts ecstatic, customers no longer have to choose between a sports car and SUV. The most easily recognizable styling cue from the Mustang is the signature tri-bar tail light design. Over the large majority of the Mustang's life, the tri-bar tail lights have been a staple design element on the car. The headlights on the Mach-E also bear a styling resemblance to the most recent Mustang models. The cove body lines running along the sides of the SUV are also a nod to the past, tying everything on the vehicle together. Ford chose to leave the shape of its more recent signature grill on the front of the Mustang Mach-E as well to further link the car into their lineup.
Performance Of The FordMach-E
Customers skeptical of EV platforms will be happy to know the lengths that Ford went to in order to make the Mustang Mach-E a leader in range and reliability. The Mustang Mach-E comes in multiple trim levels with a number of them boasting a 300 mile range. Available in both rear-wheel-drive and all-wheel-drive, the SUV is well equipped for any driving condition, including those cold winter days. With as much as 459 horsepower and 612 lb-ft of torque, the Mustang Mach-E GT is set to rocket from 0-60 miles per hour as quickly as the mid 3 second range. And if that's not enough to get you excited about the Mach-E's performance, CEO Bill Ford says it will "go like hell."
Ford Mustang Mach-E Trim Levels
The Mustang Mach-E Select
Mach-E Select is the starter trim, and it is a great starting point at that! The Select trim comes standard with RWD and the option to upgrade to AWD. With a targeted battery life of 210 miles when equipped with RWD and 230 when equipped with AWD, the Select blasts from 0-60 miles per hour in the low 6 second range with RWD and mid 5 second range with AWD. The Select also comes standard with Ford's Co-Pilot360™ 2.0 and Co-Pilot360™ Assist 2.0, assisting drivers through traffic to make the journey safer. Pricing for the Select Mustang Mach-E starts at $43,895.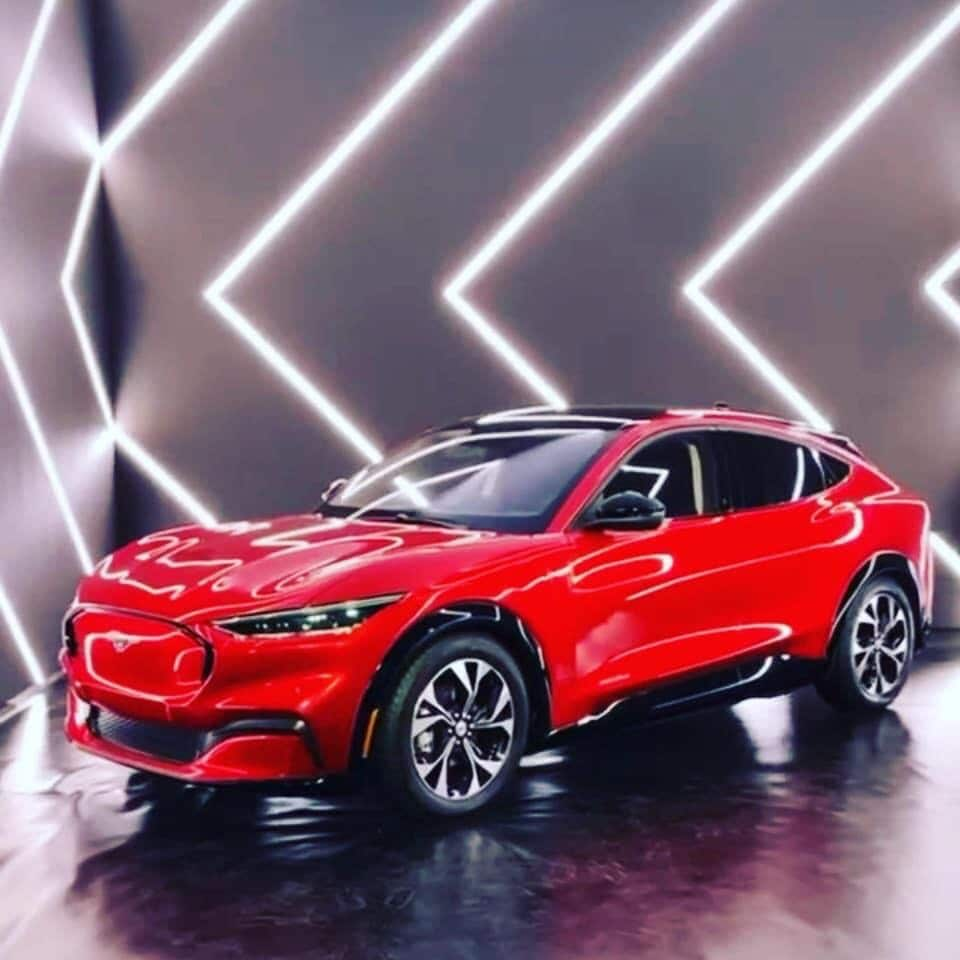 California Route 1
The Mustang Mach-E California Route 1 come exclusively in RWD with a targeted extended driving range of 300 miles and mid 6 second 0-60 to ensure you arrive at your destination.  Boasting many options as standard, the California Route 1 sets the pace for what electric SUVs are capable of in an affordable price range. Pricing for the California Route 1 Mustang Mach-E starts at $52,400. 
Mach-E Premium
The Mustang Mach-E Premium's name says it all! With a majority of premium technology and luxury options standard, the Premium trim allows you to choose from either RWD with a Standard or Extended Range battery or AWD with a Standard or Extended Range battery. Standard Ranges are targeted at 230 for the RWD equipped vehicles and 210 for the AWD. Extended Ranges increase that target to 300 for the RWD Mach-Es and 270 for the AWD. With a Standard battery, customers can expect a 0-60 speeds in the low to mid 6 second range. With the Extended battery, that time quickens with a mid 5 second 0-60. Pricing for the Premium Mustang Mach-E starts at $50,600.
Mach-E First Edition
The Mustang Mach-E First Edition will be a limited run coming in three exterior colors, including an exclusive Grabber Blue Metallic. This trim will also include First Edition scuff plates, brushed aluminum pedals, and red brake calipers. First Editions come standard with AWD, a targeted range of 270 miles, and a 0-60 target in the mid 5 second range. If you're looking for something that is sure to set your Mustang Mach-E apart from others on the road, the First Edition is for you. You better reserve one quickly though, because they won't last long! Pricing for the First Edition Mustang Mach-E starts at $59,900.
Mach-E GT
Here's where things get really interesting. If you're looking for performance, look no further than the Mustang Mach-E GT. With a targeted 250 mile range, the GT will rocket you from 0 to 60 miles per hour in a blistering mid 3 seconds. The GT comes in AWD only to help transfer its power to the ground. It also comes standard with a majority of the premium technology and luxury options. Pricing for the GT Mustang Mach-E starts at $60,500.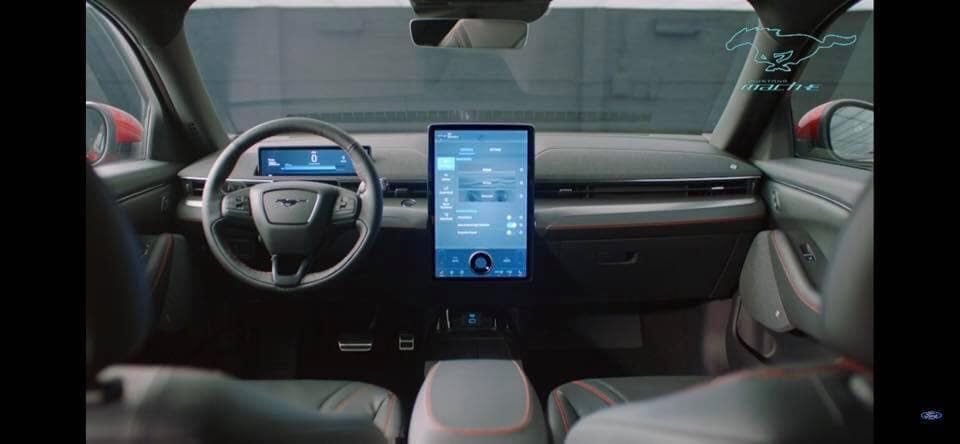 Available Features On Ford Mustang Mach-E
Each Mustang Mach-E comes with 10.2" Digital Cluster & 15.5" Touch Screen giving you plenty of screen space for apps and information. The all-new SYNC also makes tasks like calling and navigation much easier. The Mustang Mach-E learns your habits as well to cater to your own personal driving experience. Owners will also be able to use their phones as keys, unlocking features like waking your car as you approach.
The Mach-E comes with 3 different driving modes: Whisper, Engage, and Unbridled. Whisper mode is for casual driving and offers drivers the most comfortable settings. Engage mode offers a more balanced drive between comfort and performance in the Mach-E. And Unbridled mode, well, you can probably guess what that feels like based on the name. The SUV is placed in its most aggressive settings for spirited driving. Various custom engine noises are also available to be turned on and off while driving to enhance the feel of the car.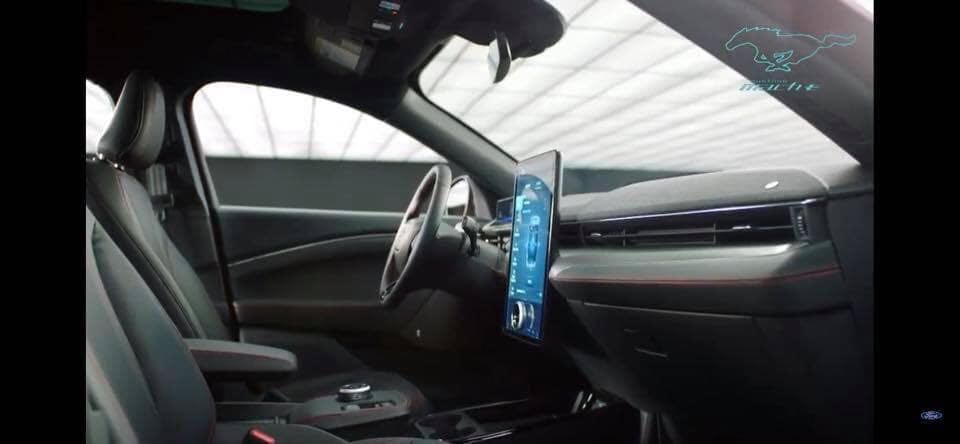 All Mustang Mach-Es comes with a 3 years / 36,000 mile bumper to bumper warranty and an Electric Unique Components 8 years / 100,000 mile warranty. All trim levels come with 59.6 cu ft of cargo space behind the first row, 29 cu ft behind the rear seat, and 4.8 cu ft can be found in the front trunk. We should also mention that front trunk can also double as a cooler. How cool is that?
Some must-have options include: Heated first row seats & steering wheel, Memory Driver seats/mirror, Power folding mirrors, B&O 10-Speaker Sound System by Bang & Olufsen, Panoramic Fixed-Glass Roof, Active Park Assist 2.0 with the 360-Degree Camera, and Hands-Free, Foot Activated Liftgate.
Charging The Ford Mustang Mach-E
The 2021 Mustang Mach-E comes with two years of Ford's FordPass™ Charging Network. The FordPass Charging Network offers over 12,000 public charging stations and continues to grow. The Mustang Mach-E can charge to a targeted 47 mile range in 10 minutes, with a 10% to 80% charge in an estimated 45 minutes. Owners can monitor their charging on the FordPass app and plan their route to available charging stations as well.
Electric Vehicle Ownership Savings
Depending on where you live, personal tax situation, you may qualify for Federal, state and city tax incentives for driving an all-electric vehicle. This can result in a potential $7,500 government incentive. The Ford Mustang Mach-E will also help you save on fuel costs and maintenance.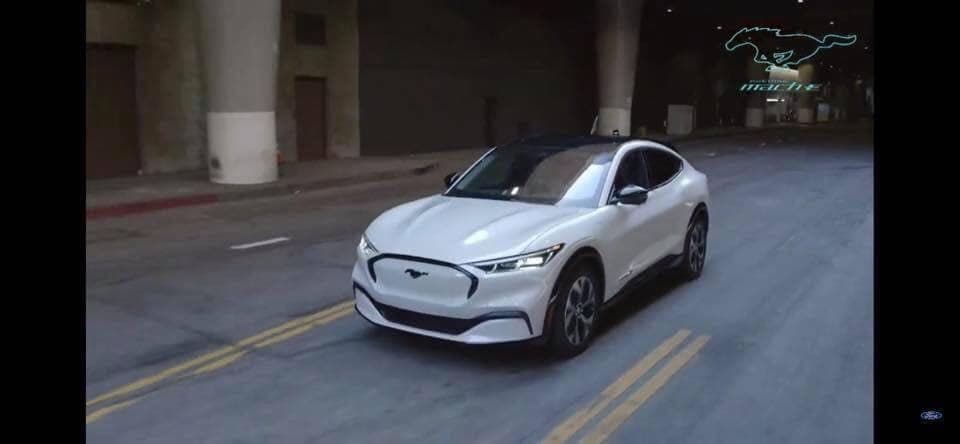 How To Order The Ford Mustang Mach-E
Be one of the first to step into the future with Ford! Wickstrom Ford would be happy to help you spec and order your perfect new 2021 Ford Mustang Mach-E. We're currently taking orders and look forward to working with you! You can order your own Mustang Mach-E now. If you have any questions, please feel free to reach out to us. One of our salespeople will be happy to help you find exactly what you're looking for in a new electric vehicle.
Order Your Mach-E Today
* Indicates a required field